Romania and a perfect road trip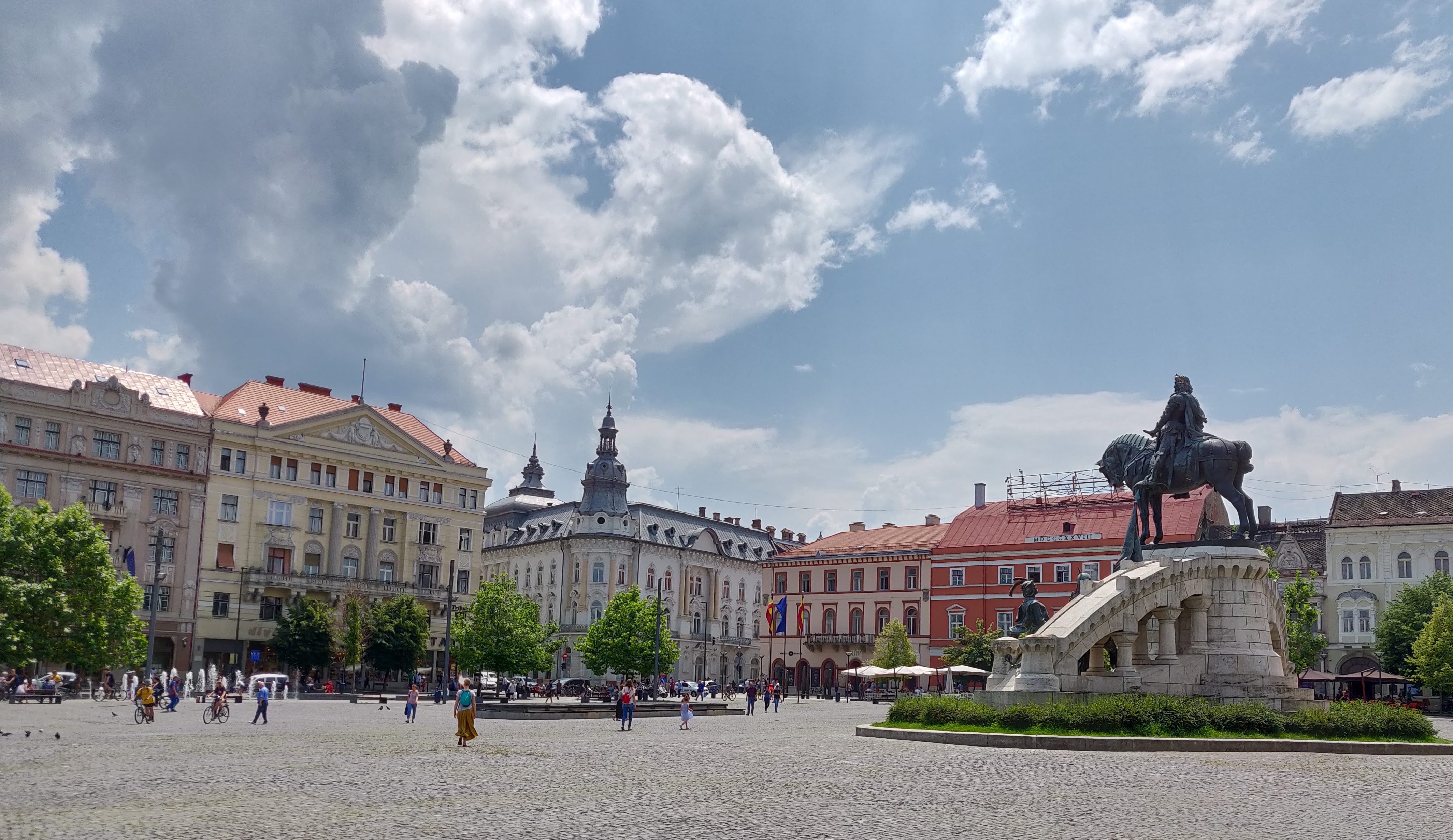 Romania is a hidden gem in Eastern Europe. In 2019 I had a chance to do a road trip through it, from south to the north in 4 days, driving ~ 2500 km, visited dozens of sightseeings: waterfalls, mountains, castles, and beautiful roads. I spend quite a lot of time building a perfect route. In case you are planning to visit Romania - hope this information will help you, otherwise, probably it would help to reevaluate the possibility of a visit.
Left to right 4 days trip route
Welcome to Romania
We started our road trip in the middle of the night, starting from Lviv, and managed to cross boarded in Porubne (UA) - Siret (RO) in the early morning (The closest big city in Ukraine - Chernivtsi). Spoiler alert road from Chernivtsi to Porubne is terrible, sometimes it is gravel or even field road. Border control is very small, crossing both sides took less than 1.5 hours.

Piatra Teiului & Bicaz Dam
Our first stop was the notrth of the Bicaz lake - Piatra Teiului. Picturesque lake and a good spot to recharge after a long road. Unfortunately, there are no restaurants or cafe so better take some snacks from home.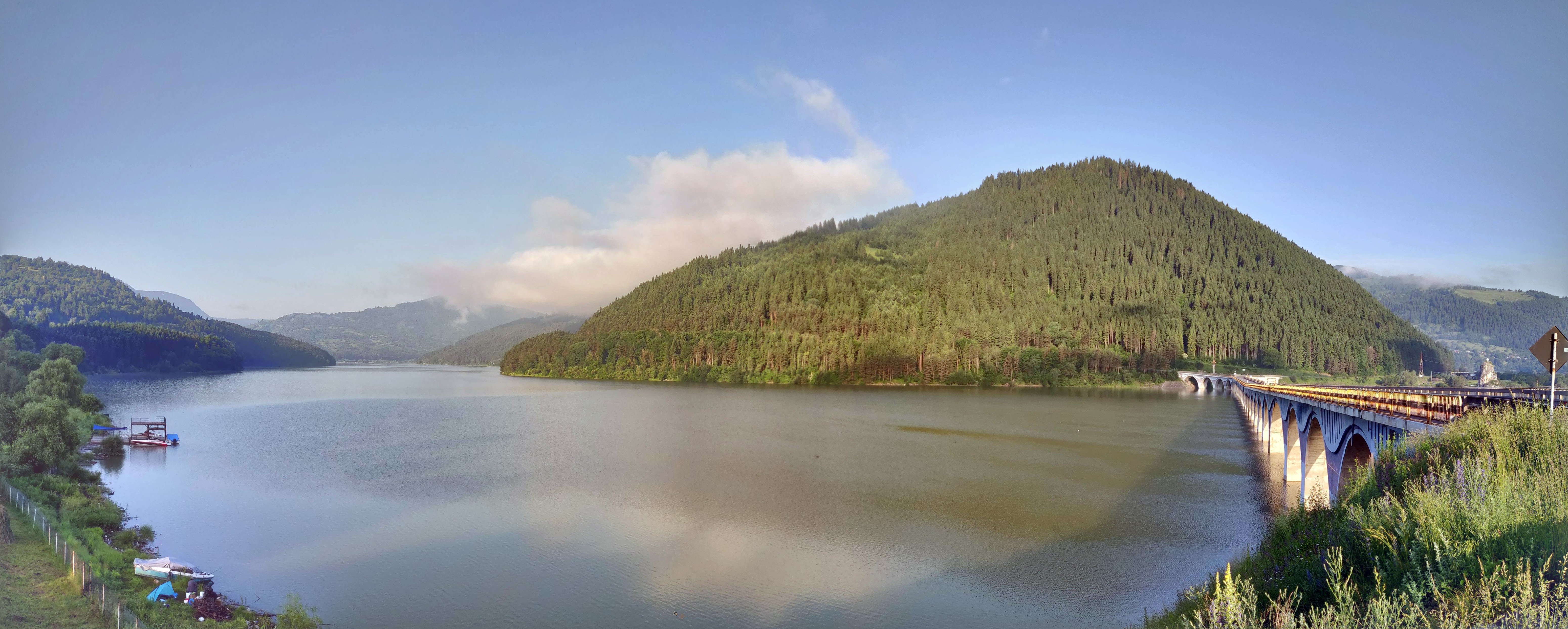 Bicaz Canyon
The next stop is Bicaz Canyon. But before we get to it we will pass many beautiful mountains like "Cheile Sugaului Trasee", where I would highly recommend stopping and do a hike. If you like rock climbing this is a perfect spot for you (Via Ferrata Astragalus). Bicaz Gorge - is the heart of the Bicaz canyon, with rocky mountains rising to 500 meters -breathtaking. And of course, what you expect from such a place, there are random small markets with souvenirs all over the place. Also, there are a lot of hiking trails around.
Sighișoara
After 3 hours on the road, we arrived in Sighișoara. A beautiful old city with a castle and an old city center at the top of the hill. It took us around 2 hours to walk around and enjoy the view. As well it was a perfect place for lunch.
Brașov
The first night we spent in Brasov, it is located two hours to the south from Sighișoara. As well old and cozy old city, probably most popular by the sign "Brașov" high in the mountains similar to "Hollywood" in LA.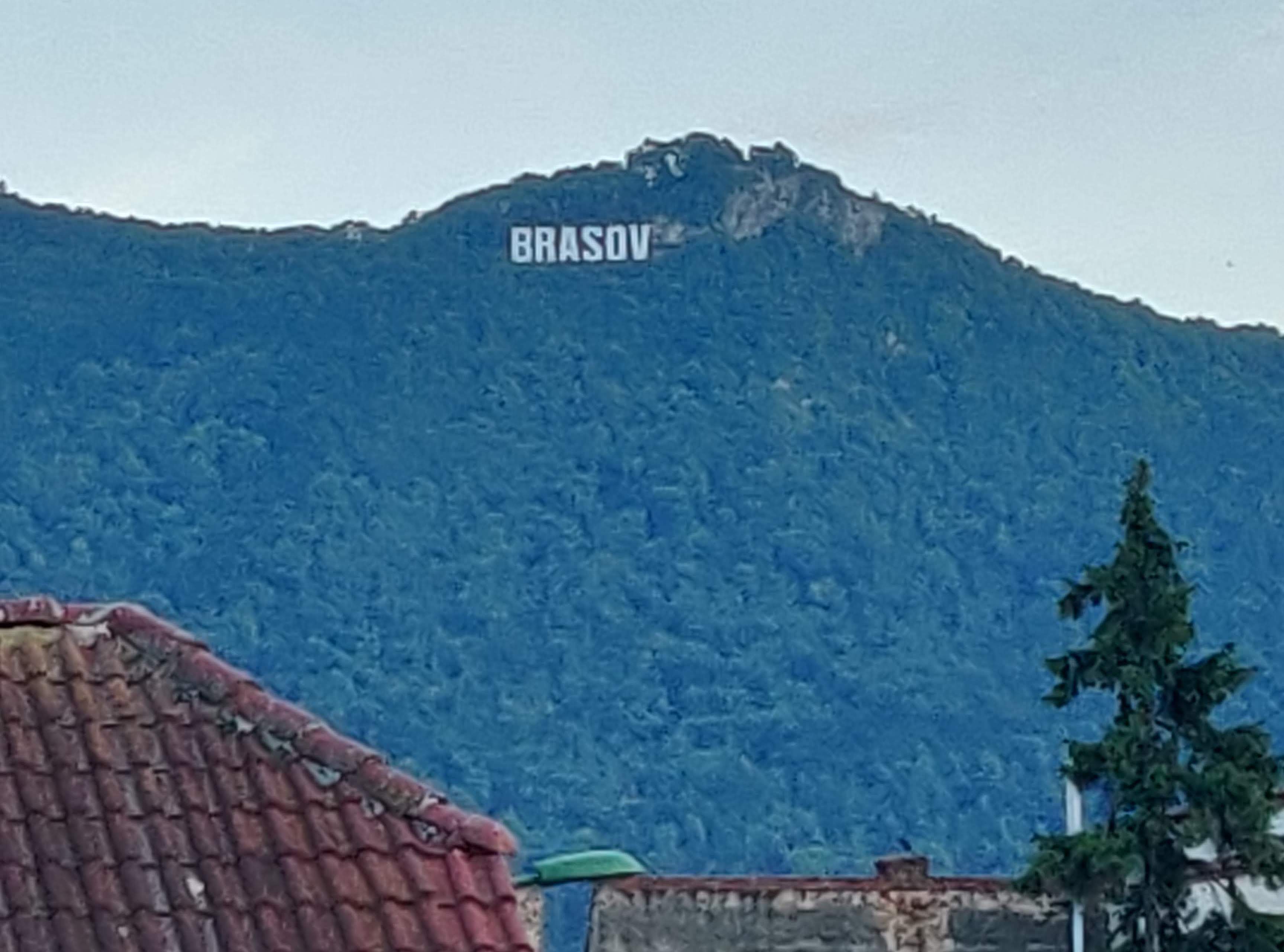 Peleș Castle
The next day we started with 50 minutes trip to the south to Peleș Castle. Honestly, it is my favorite Romanian palace. Maybe because it is different from all other, thick walls, middle-age castles that we will see in following days.
Cantacuzino Castle
Next, we moved to the north and purely accidentally run into Cantacuzino Castle - 15 minutes from Peleș Castle. It stands on the hill in the Zamora and from it opens the great view of the nearby mountains.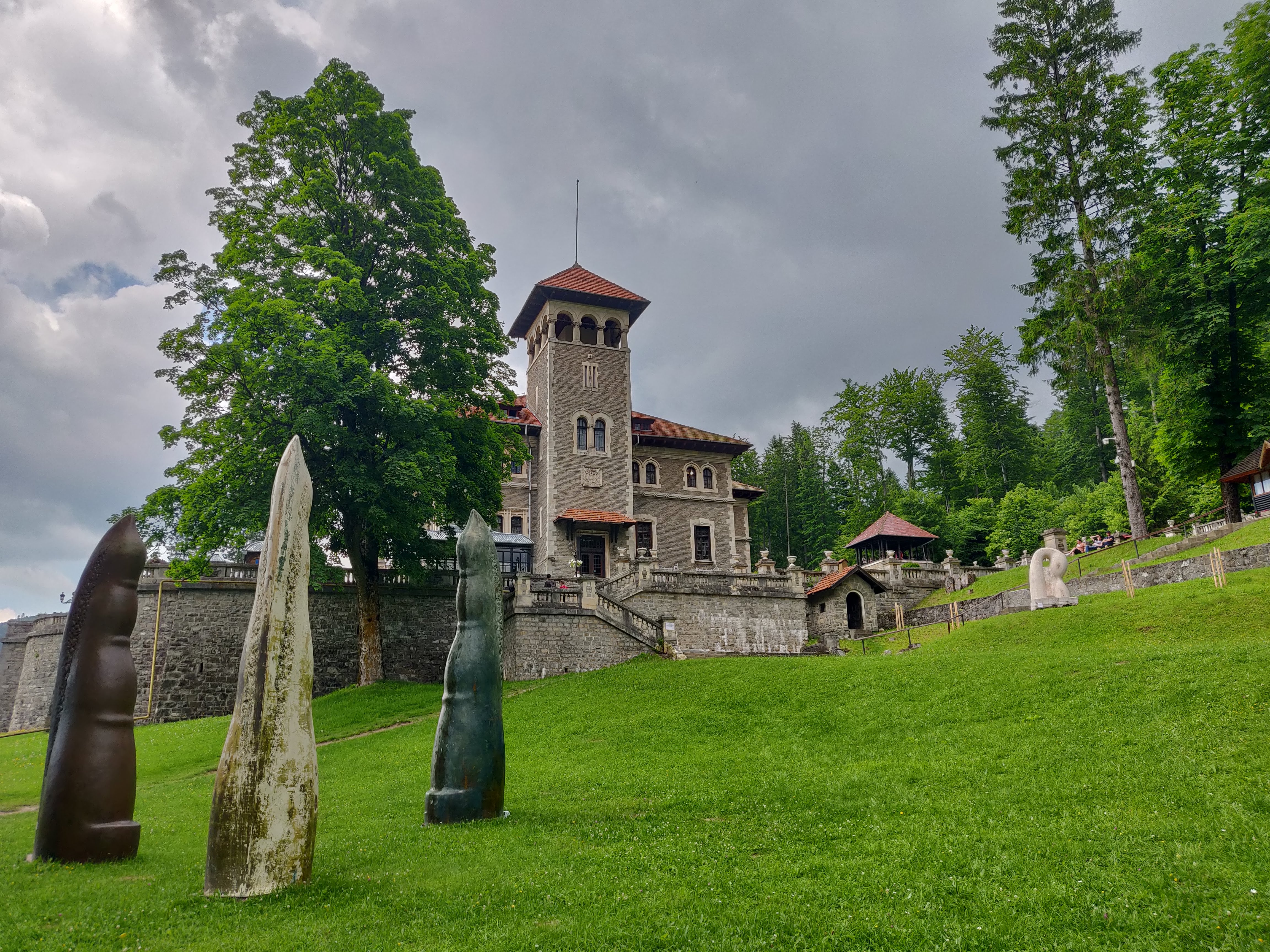 Bran castle a.k.a Dracula castle
The most famous castle in Romania Bran castle. Known by all the legends about Dracula, actually a real person - Vlad the Impaler (III). Despite most popular, I would not say that for me it was most beautiful. The biggest problem we face is to park the car around it, during the weekend's small village is just overcrowded with tourists. Roads around are single line and we spent 1.5 h in the huge jam for just a few KM from the castle.
Transfăgărășan road - "Greatest Driving Road in the World" by Top Gear
From the Bran castle, we ride to the north to start our journey to Transfăgărășan road from Cârțișoara village. Unfortunately, at the time we have been there the most beautiful, peak part of the road was blocked by frequent and abundant snowfalls. Usually, the road is fully opened from July to September. But there is an alternative, you can take a cable car that will take you to the peak of the canyon - Staţia de Telecabina Bâlea Cascadă. Again, unfortunately for us, we didn't make it on time for the cable car. We arrived just 5 minutes after the last car left. So we decided to visit one more sightseeing at the foot of the mountain - Balea Waterfall. Huge 60-meter waterfall, just below the Transfăgărășan road. The trip to it from the parking lot took us around 30 minutes. The next night we spend in the Râmnicu Vâlcea, a small city on the way to our next milestone.
Transalpina (DN67C)
Transfăgărășan is not the only road crossing mountain range in Romania. Transalpina is a great alternative! So we approached it from the south to the north and had a great time. It took us around 1H to get to the top, where we had a stop to walk around and enjoy the view.
Be aware that the road is curvy and inclined, keep distance from nearby cars. Just when we were about to reach the top of the mountain, riding in the line of cars, the car in front of us stalled and started to roll backward! Hopefully, the opposite lane was empty and I manage to run away on it. The rolling car stopped in around ~10 meters, no one was injured in the accident.
On the way down from the mountain range, we stopped near the Vidar lake in the small restaurant near the road - Terasa Vidruta. They didn't have credit cards, nor they were on google maps, despite that they served amazing stakes.

Castelul Corvinilor
In 3 hours of gravel roads we manage to arrive at our next stop - Castelul Corvinilor. Huge and beautiful and middle-aged castle to the north.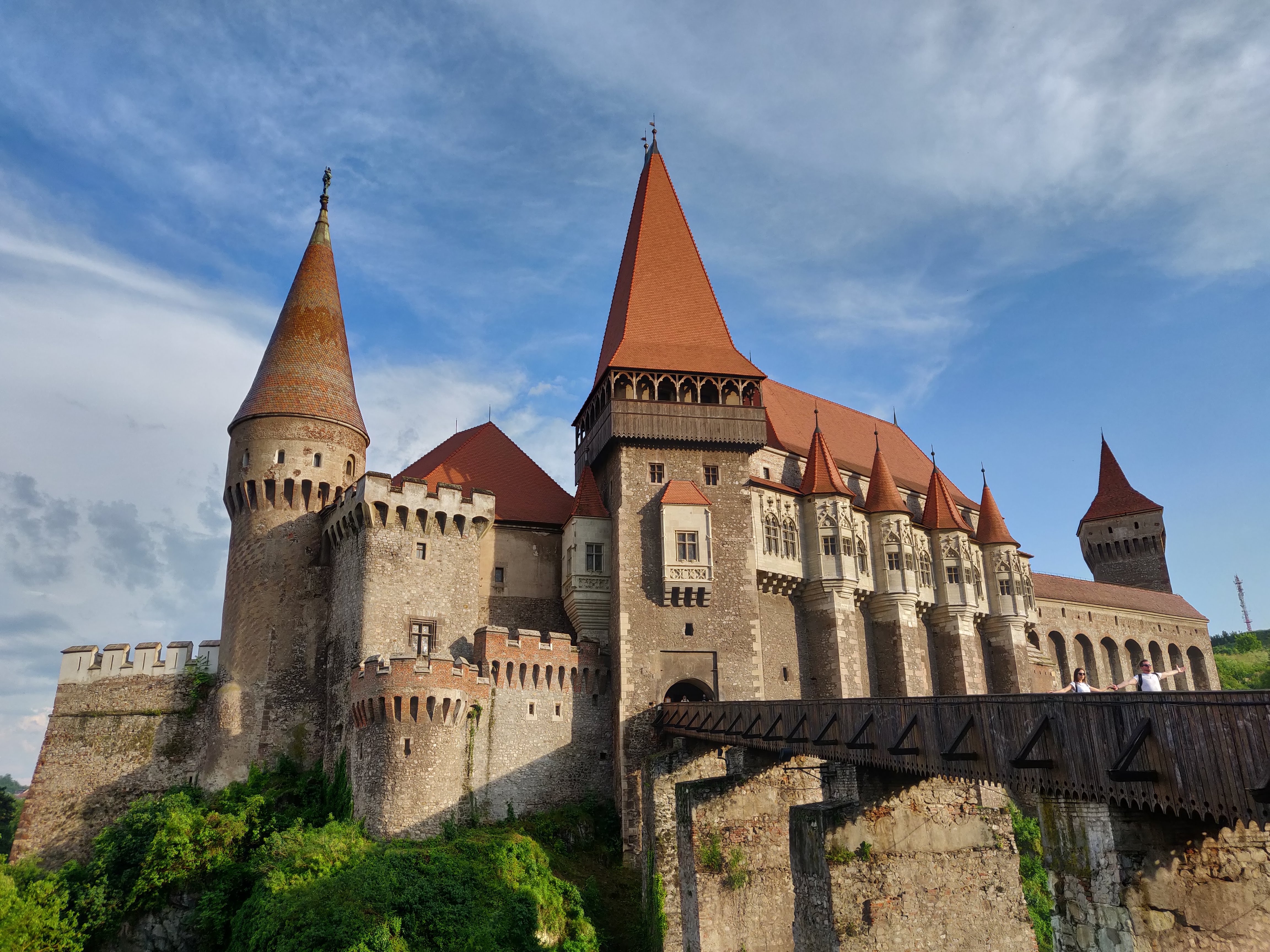 From there it took us 3 hours, to arrive at our overnight stay at the Turda. Cozy and small town, with little to do in, if not only Salina Turda.

Salina Turda
Just on the edge of the Turda, located a huge slat mine. Mining started here ~ 11 century and continued up to the 20th century. The deepest part of mine goes ~ 100 meters. Visiting it is a totally mind-blowing experience.
Before the first engines were created mining was powered by horses. And considering that in the mine there were no daylight horses lived there in total darkness. Unlike workers, they did not rotate. After ~ 6 months horses usually got blind and exhausted and had to be put down and replaces with a new one.

Cluj-Napoca
Our last stop before border control in Romania was in Cluj-Napoca. A modern city with reach history and a lot of IT companies (somebody would even call it "Silicon Valley" of Romania). There are a few historic spots to visit in the city. Besides the city center, I would highlight Ethnographic Park Romulus Vuia. It is a good place to stop for a meal and coffee.
Conclusion
Romania is a perfect destination for a short road trip with friends and family. It combines beautiful nature, historic monuments, cozy cities, and relatively budget comparing to western neighbors. Unfortunately, we didn't manage to visit all places that we planned, mostly due to bad traffic during the weekends. Here is the map with all places I discovered while researching Romania:
In general, I would recommend planning your trip during the weekdays. The perfect duration, as for me, is 5 days.